Überblick
Der NT-MG1500 bietet Paketübertragungsleistung mit drahtloser Geschwindigkeit mit nicht blockierendem 12Gbps-Switch-Fabric, 8k-MAC-Adresstabelle und 802.3x-Vollduplex-Flusssteuerung.
Der NT-MG1500 kann für grundlegende Switch-Management-Funktionen programmiert werden, z. B. für Port-Speed-Duplex-Einstellungen, Port Trunking, VLAN, Port Mirroring, Rapid Spanning Tree usw. Außerdem enthält die Firmware erweiterte Funktionen wie IGMP-Snooping, QoS (Quality of Service) ), Broadcast Storm und Bandbreitenkontrolle, um die Bandbreitennutzung zu verbessern.
NT-MG1500 unterstützt das Standard-SNMP-Protokoll (Simple Network Management Protocol) und kann über jede standardbasierte Verwaltungssoftware überwacht werden. Diese Funktionen bieten eine kostengünstige Möglichkeit, das Gerät aus dem Internet zu verwalten, wenn Sie gerade arbeiten oder zu Hause sind.
Hauptmerkmal
Entspricht IEEE 802.3 10Base-T, IEEE 802.3u 100Base-TX, IEEE 802.3ab 1000Base-T,
IEEE 802.3z 1000Base-SX / LX-Ethernet-Standard
5-Port 10/100 / 1000Mbps Gigabit Ethernet-Anschlüsse mit 1-Port-Glasfaseranschluss
Die automatische MDI / MDI-X-Erkennung an jedem RJ-45-Port unterstützt das CSMA / CD-Protokoll
Verhindert Paketverlust durch Gegendruck (Halbduplex) und 802.3x PAUSE-Rahmenflusskontrolle (Vollduplex)
8K MAC Adresstabelle, automatische Quellenadressierung und Alterung
12Gbps-Switch-Fabric, nicht blockierende Switch-Architektur
9K Jumbo Frame unterstützt alle Geschwindigkeiten (10/100 / 1000Mbps)
Unterstützt portbasierte und 802.1Q-VLAN-Funktion mit bis zu 64 VLAN-Gruppen
Unterstützt das IEEE 802.1w Rapid-Spanning Tree-Protokoll (RSTP)
Link Aggregation unterstützt den statischen Modus und LACP (IEEE 802.3ad) - bis zu 4 Trunk-Gruppen. Jede Trunk ist maximal bis zu 6 Ports
IGMP Snooping für Multicast-Filterung, unterstützt v1 und v2
Unterstützen Sie DHCP-Option 60 und Option 82
Multicast und Broadcast Storm Control sowie Flooding Control
Port Mirroring-Unterstützung für dedizierte Port-Überwachung
802.1X Port-Base-Zugriffskontrolle, RADIUS-Server-Authentifizierung
Die statische MAC-Adresse weist die Ziel-MAC-Adresse an den spezifischen Port zu
Remote-Web-Management-Schnittstelle
Firmware-Upgrade über die Webschnittstelle
Kabel-Diagnose-Technologie
Unterstützt SNMPv1 mit RFC-1213/1573-Interface-Gruppe und RMON-Gruppe 1 (Statistics) SNMP-Trap
Spezifikation
Parameter

Specifications

Access mode

10/100/1000Mbps Gigabit Ethernet

Standards

IEEE 802.3 10BASE-T

IEEE 802.3u 100BASE-TX

IEEE 802.3ab Gigabit 1000Base-T

IEEE 802.3z Gigabit 1000Base-SX/LX

IEEE 802.3x Flow Control

IEEE 802.3ad Port trunk with LACP

IEEE 802.1d Spanning tree protocol

IEEE 802.1w Rapid spanning tree protocol

IEEE 802.1p Class of service

IEEE 802.1Q VLAN Tagging

IEEE 802.1x Port Authentication Network Control

Copper Ports

5-port 10/ 100/1000Base-T RJ-45 Auto-MDI/MDI-X ports

Wavelength

850nm/1310nm/1550nm

Transmission distance

Multi-mode Dual-fiber: 220m (62.5/125μm)/550m (50/125μm)

Single mode Dual-fiber: 20/40/60/80/100km(9/125μm)

Single mode single-fiber: 20/40/60km(9/125μm)

Category-5 twisted pairs: 100m

Port

Five RJ45 port:

Connecting with STP/UTP category-5/5e twisted pairs, EIA568A/B

One optical port:

Multi-mode Dual-fiber: SC/LC(SFP) (50, 62.5/125μm)

Single mode Dual-fiber: SC/FC/LC(SFP) (9/125μm)

Single mode Single-fiber: SC/FC (9/125μm)

Switch Fabric

12Gbps / non-blocking

Switch Throughput

8.9Mpps

Address Table

8K MAC address table with Auto learning function

Share Data Buffer

136K bytes on chip

Flow Control

Back pressure for Half-Duplex

IEEE 802.3x Pause Frame for Full-Duplex

Jumbo Frame

Max to 9K Bytes
Management Interface

Web Browser, SNMPv1, v2c monitor and SNMP Trap

VLAN

Port-Based / 802.1Q Tagged Based VLAN,

Up to 64 VLAN groups

Link Aggregation

Supports 4 groups of 8-Port trunk,

IEEE 802.3ad LACP

QoS

Traffic classification based on 802.1p priority,

DSCP field in IP Packet

IGMP Snooping

IGMP (v1/v2) Snooping, up to 64 multicast groups

SNMP MIBs

RFC-1213 MIB-2

RFC-1573-Interface MIB

RFC-2819 RMON MIB(Group 1)

LED

Power, 1000 Link/Act, 100/10 Link/Act per port

Power Requirement

100 - 240VAC 50~60Hz, 40~57VDC

Power Consumption

6 watts

Temperature

0~50 ℃

Humidity Operating

5~95%(non-condensing)

Dimensions

217mm x 135mm x 43.5mm (W x D x H)

Weight

0.5kg

Web Smart Gigabit Switch mit 6 Ports und 1 Glasfaseranschluss
NT-MG1500-Serie
Anwendungen
FTTx-Schalter
Mit 1gigabit Glasfaserschnittstellen, um eine Netzwerklösung von FTTH (Fiber to the Home) oder FTTC (Fiber to the Curb) für ISPs und FTTB (Fibre to the Building) für Unternehmen aufzubauen, sind die verschiedenen Entfernungen von Glasfaseranschlüssen für Kunden optional. Für Sicherheit und Anwendungen können die 5 Gigabit-Ports mit VLAN-Einstellungen konfiguriert und mit verschiedenen Einheiten, Büros, Gebäuden, Häusern und Abteilungen verbunden werden. Und NT-MG1500 ist eine breite Anwendung in Europa FTTH-Markt.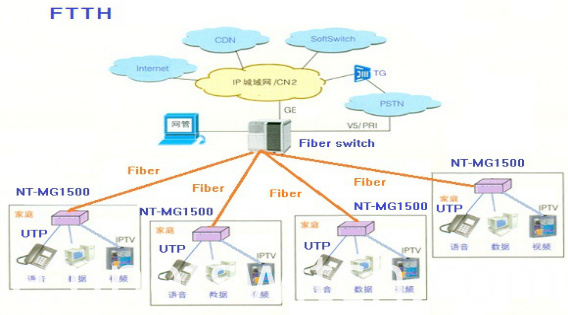 Bestellinformationen
NT-MG1500 6-Port 10/100/1000 MBit / s Web Smart Gigabit Ethernet Switch
Produktgruppe : Industrieller Medienkonverter > Industrieller Gigabit-Medienkonverter